Professional Journal
Bulletin. Series of Physics
| | |
| --- | --- |
| | Bulletin contains articles on the current state of theoretical and experimental research in physics. The publication is intended for researchers, teachers and students of physical specialties of higher education and research institutions. |
Journal Themes
1. Theoretical Physics
2. Solid State Physics
3. Cryogenics
4. Physics of magnetic phenomena
5. Optics and Spectroscopy
6. General issues of physics (mathematical methods, methods of teaching relating to a physical experiment and others).
Languages - Ukrainian, Russian and English.
Manuscripts
Manuscripts should include: title page with the title of the article; the authors' initials and surnames; mailing address of the establishment where the work has been written; PACS and UDC class number; abstract on a separate sheet of paper with the authors' surnames and initials and the title of the article in Ukrainian, Russian and English; body text of the article; bibliography; cutlines; pictures, tables and illustrations. The text of the manuscript must be printed on a sheet of A4 (210x297) with double space, 2.5 cm left, right, top and bottom margins and 14 Times type.
Formulas and mathematical symbols are made with the help of Microsoft Equation editor with Microsoft office (version 3.0 or any later version) or Math Type (version 4.0 or any later version) Package.
Design of type face needs italics for Latin letters, standard type for chemical formulas and bold type for vectors.
Graphs and illustrations are introduced in graphic format, color model should be black and white (gray scale 8 or 16 bit), with addressability of at least 300 dpi and *. jpg (no more than 20% compression), *.tif, *.bmp file distribution. Type is Times or Symbol. Type size is at least 14 pt (with labels on axes only in formula form). Line width in graphs and diagrams is less than 1 pt.
Graphs and illustrations can be one or two columns wide, where dimensions are the following: 8 cm width and 18 cm height for one column and 16 x 18 cm for both columns.
Example for graphing:
Line thickness not exceeding 0,5 mm but not less than 0.18 mm. Size of the letters of a signature 14 pt, but not less than 10 pt, Arial headset.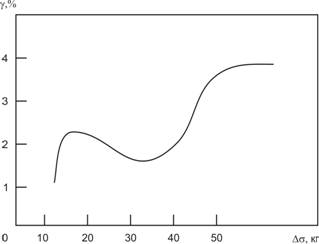 Example of bibliography:
1. Л.Д. Ландау, Е.М. Лифшиц. Теория упругости, Наука, М. (1978), 730 с.
2. И.И. Іванов. ФТТ, 25, 7, 762 (1998).
3. A.D. Ashby. Phys.Rev., A19, 213 (1985).
4. D.V. Vert. In Progress in Metals, ed. by R. Speer, USA, New York (1976), v.4, p.17.
Editorial office is provided by:
1. Two printed copies of the article signed by its authors.
2. The electronic version of the manuscript should be sent by e-mail address vestnik_phy@mail.ru.
3. Referral from the institution, where the work has been prepared, and certificate of appraisal in two copies, address, the authors' full names, telephone numbers, E-mail and contact details of an author to address.
Materials should be sent to:
Editorial office of the journal "Bulletin of Kharkiv National Karazin University. Series of physics", Vladimir. S. Krylovskiy School of Physics, Kharkiv National Karazin University
Freedom sq., 4, Kharkiv, 61077,Ukraine
Tel: +38(057)-707-53-83,
E-mail: vladimir.s.krylovskiy@univer.kharkov.ua
Editorial Board
Chief Editor:
R.V. Vovk, Dr. Sci. (Phys.–Math.), Prof.
Deputy Chief Editor:
O.M. Yermolaiev, Dr. Sci. (Phys.–Math.), Prof.
Responsible Secretary:
V.S. Krylovskyi, Reader, Cand. Sci. (Phys.–Math.).
Агеєв Л.О. - доктор фіз. - мат. наук, професор, ХНУ імені В.Н.Каразіна, Україна
Андерс О.Г. - доктор фіз. - мат. наук, професор, ХНУ імені В.Н.Каразіна, Україна
Бойко Ю.І. - доктор фіз. - мат. наук, професор, ХНУ імені В.Н.Каразіна, Україна
Гуревич Ю.Г. - доктор фіз. - мат. наук, професор, Дослідницький центр, Мексика
Зиман З.З. - доктор фіз. - мат. наук, професор, ХНУ імені В.Н.Каразіна, Україна
Кагановський Ю.С. - доктор фіз. - мат. наук, професор, Бар - Іланський університет, Ізраїль
Камзін А.С. - доктор фіз. - мат. наук, професор, ФТІ імені Іоффе, Росія
Кунцевич С.П. - доктор фіз. - мат. наук, професор, ХНУ імені В.Н.Каразіна, Україна
Милославський В.К. - доктор фіз. - мат. наук, професор, ХНУ імені В.Н.Каразіна, Україна
Пархоменко А.А. - доктор фіз. - мат. наук, професор, ННЦ ХФТИ НАНУ, Україна
Пойда В.П. - доктор тех. наук, професор, ХНУ імені В.Н.Каразіна, Україна
Портной М.Е. - доктор фізики, професор, університет Эксетеру, Великобританія
Рожко А.Ф. - доктор фізики наук, професор, Лондонський центр нанотехнологій, Великобританія
Хронеос Олександр - доктор фізики наук, професор, Империал коледж, Великобританія
Фегер Олександр - доктор фіз. - мат. наук, професор, інститут фізики університету імені Шафарика, Кошице, Словакія
Федоров П.М. - доктор фіз. - мат. наук, професор, ХНУ імені В.Н.Каразіна, Україна
Шехтер Роберт - доктор фіз. - мат. наук, професор, Гетеборгський університет, Швеція
Шкловський В.А. - доктор фіз. - мат. наук, професор, ННЦ ХФТИ НАНУ, Україна
Шкуратов Ю.Г. - член-кор. НАН України, доктор фіз. - мат. наук, професор, ХНУ імені В.Н.Каразіна, Україна
Ямпольський В.А. - член-кор. НАН України, доктор фіз. - мат. наук, професор, ХНУ імені В.Н.Каразіна, Україна